Practical Skills and Simulation Training
There has been a significant investment into simulation facilities across Yorkshire. Many education centres run anaesthesia courses covering anaesthetic emergencies, airway management, critical care transfer, paediatric emergencies, obstetric anaesthetic emergencies and human factors. You can access simulation courses in any of the three hubs. Suitable courses at convenient venues and dates can be booked online via the individual simulation centre website.   
Please see the Recommended Courses section to see which courses are suitable at each stage of training. There are contact details on this page and in that section too - contact them directly for more information.
The courses listed below are displayed in date order (where possible)
 
•••••••• 
Anaesthetic Emergencies on Delivery Suite: Simulation Day
Harrogate District Foundation Trust
Thursday, 2 February 2023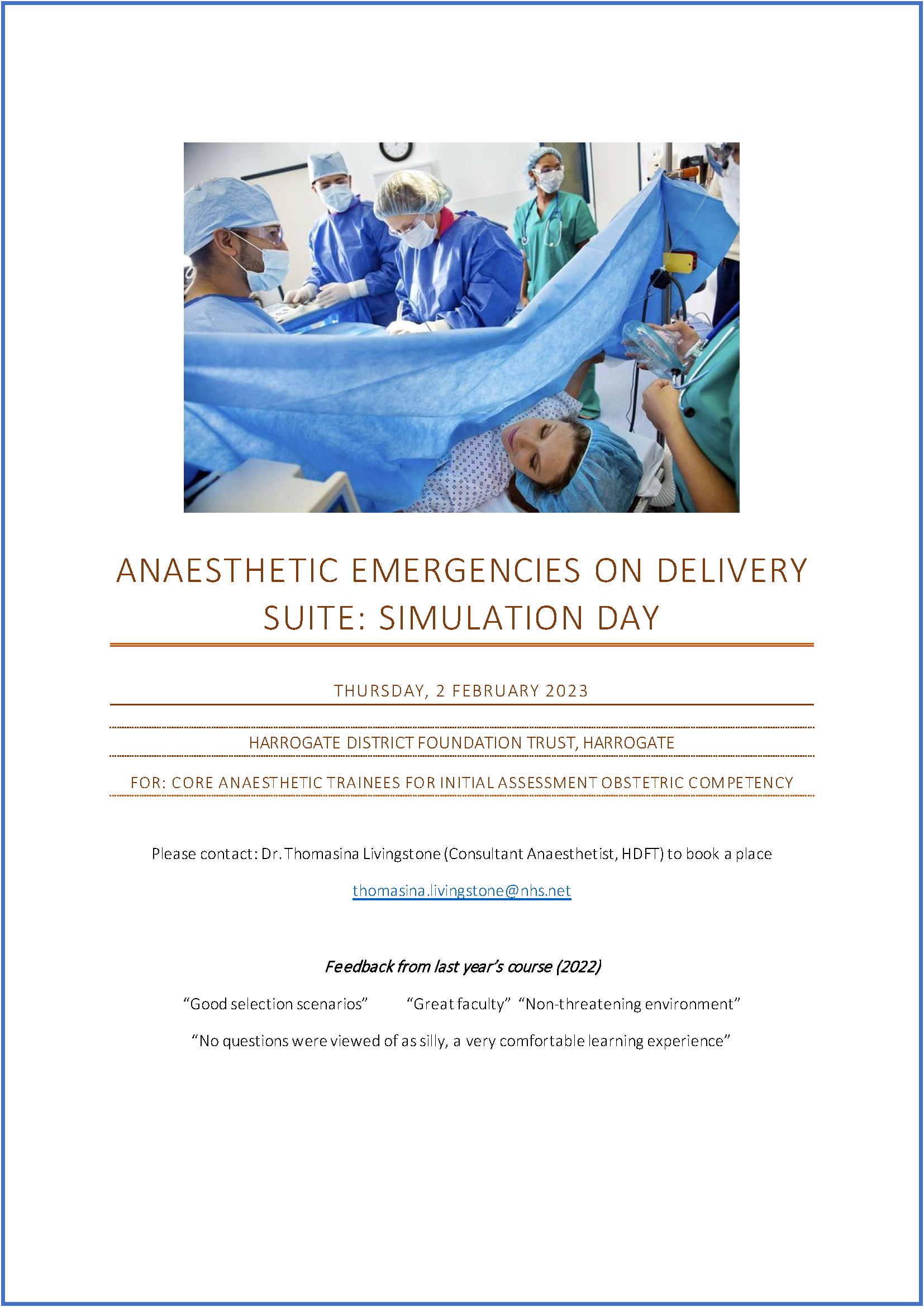 click poster for bookings/enquiries
******** 
Obstetric Anaesthesia Emergencies
Simulation Centre, Bradford Royal Infirmary
Tuesday, 7 February 2023
Tuesday, 14 November 2023

********
Difficult Airway CBD Teaching
online
Friday, 10 February 2023 (09:30-11:30)
March date tbc
Difficult airway cases based discussions -  virtual teaching for 4-5 trainees.
The session is useful for trainees doing Stage 2 and 3 airway management
10 February 2023 running 09:30 -11:30 with Dr Monalisa Marbaniang
a further date in March tbc.
Please fill in the form linked below if you wish to book a place
You should receive the course links and information package in due course
Please make sure you enter your email address correctly
https://forms.gle/eCGzDFfv6vHYExnz8
********
Obstetric Anaesthetic Crisis Resource Management
Education Centre, Pinderfields, Wakefield
Thursday, 16 February/20 April/29 June/14 September 2023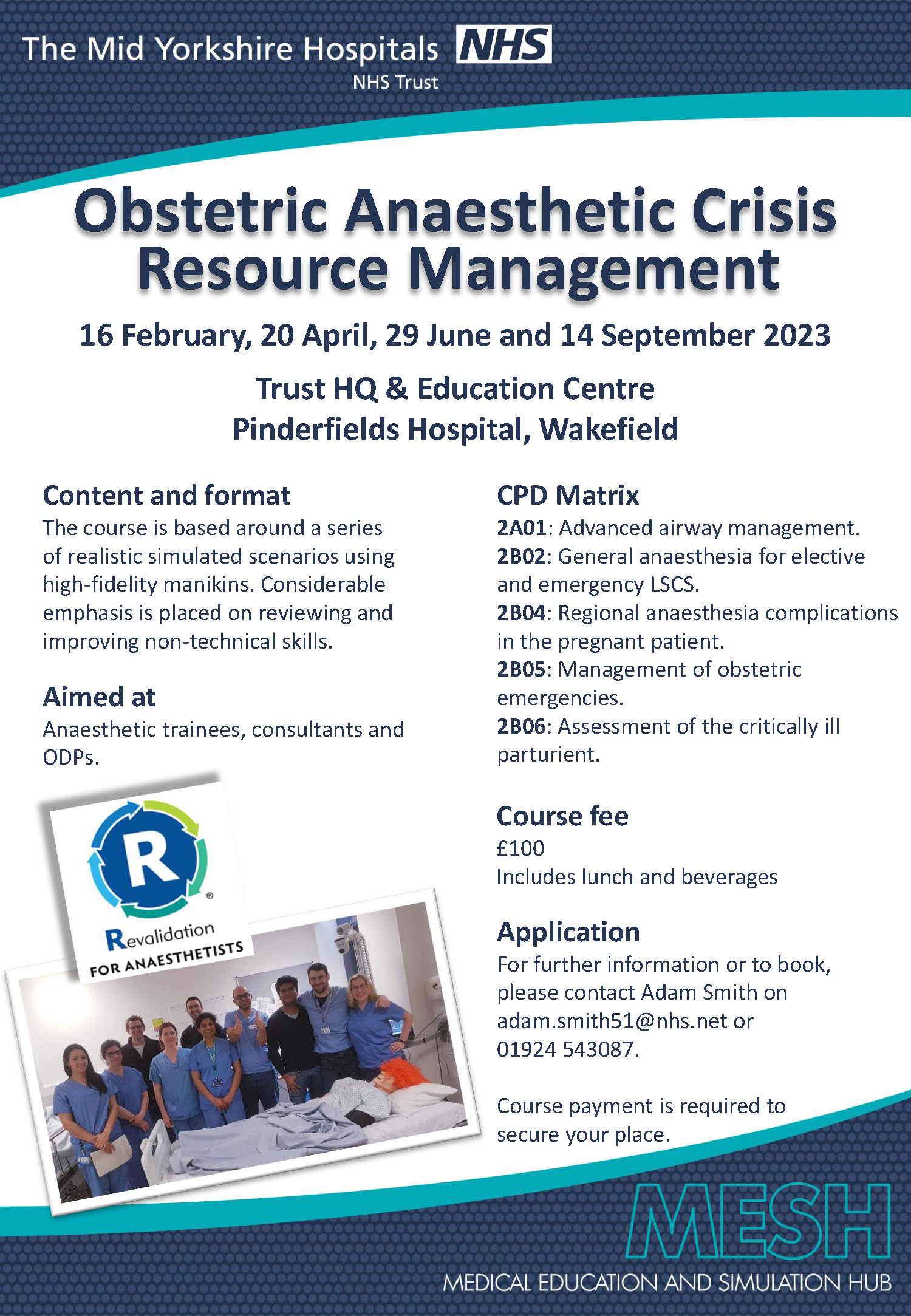 ********
SPECS course
Simulated Paediatric Emergency Care Scenarios
HILS Clinical Skills Facility, Hull Royal Infirmary
Tuesday, 14 March 2023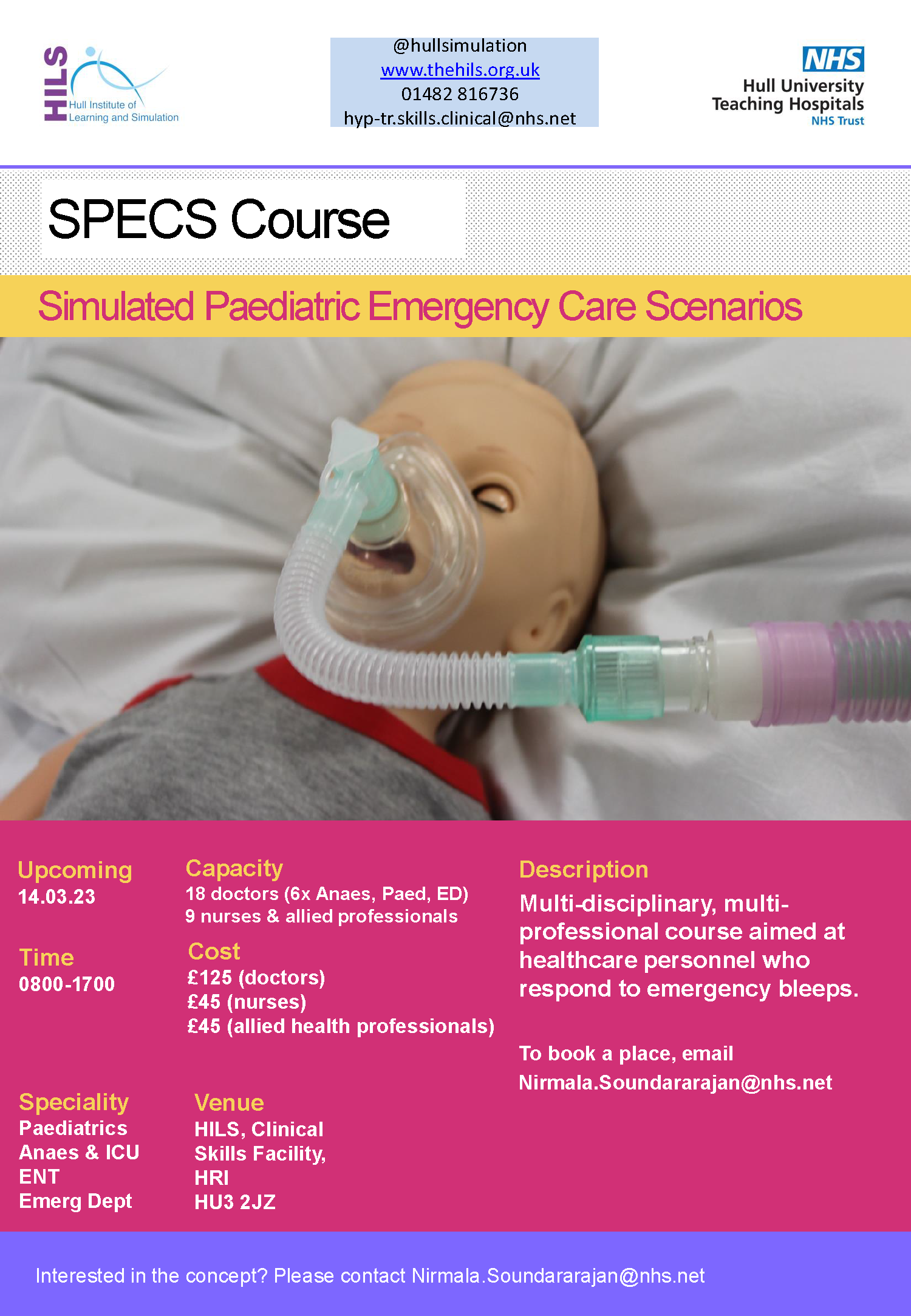 click on flyer to book a place
********
BOAASTY Basic Obstetric Anaesthesia
Clinical Skills Facility, Hull Royal Infirmary
Wednesday, 12 April 2023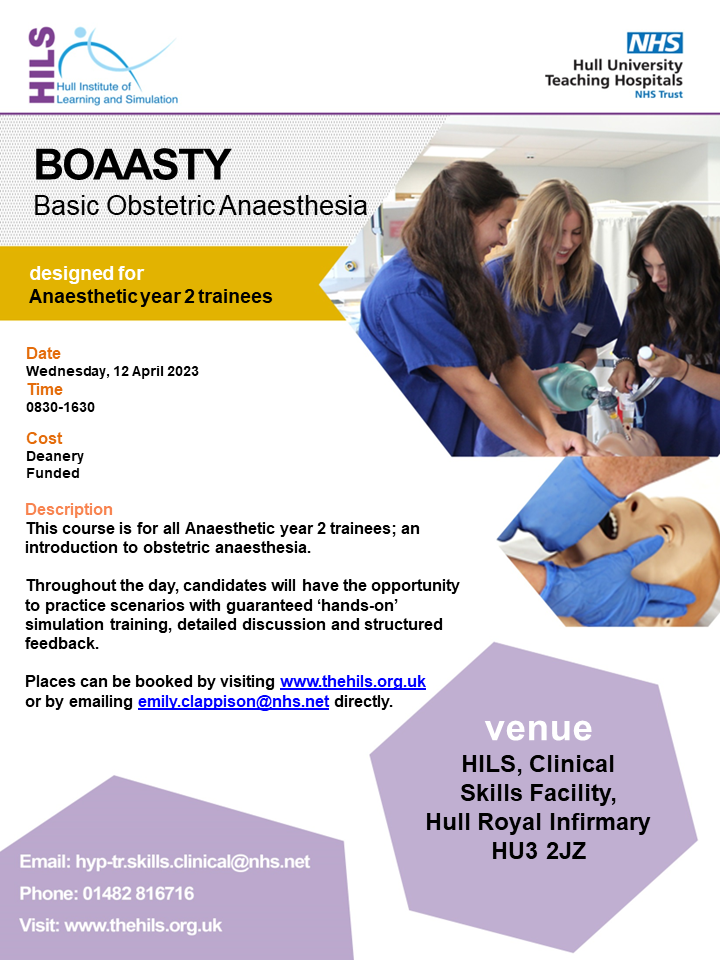 click flyer image for further information or to book
•••••••• 
Critical Incident Course
HILS Clinical Skills Facility, Hull
Tuesday, 2 May 2023

*******
MEPA 
Managing Emergencies in Paediatric Anaesthesia
HILS Clinical Skills Facility, Hull
Tuesday, 23 May 2023
Tuesday, 14 November 2023

*******
Obstetric Anaesthesia Simulation Day
Montagu Simulation Centre, Doncaster Royal
Tuesday, 13 June 2023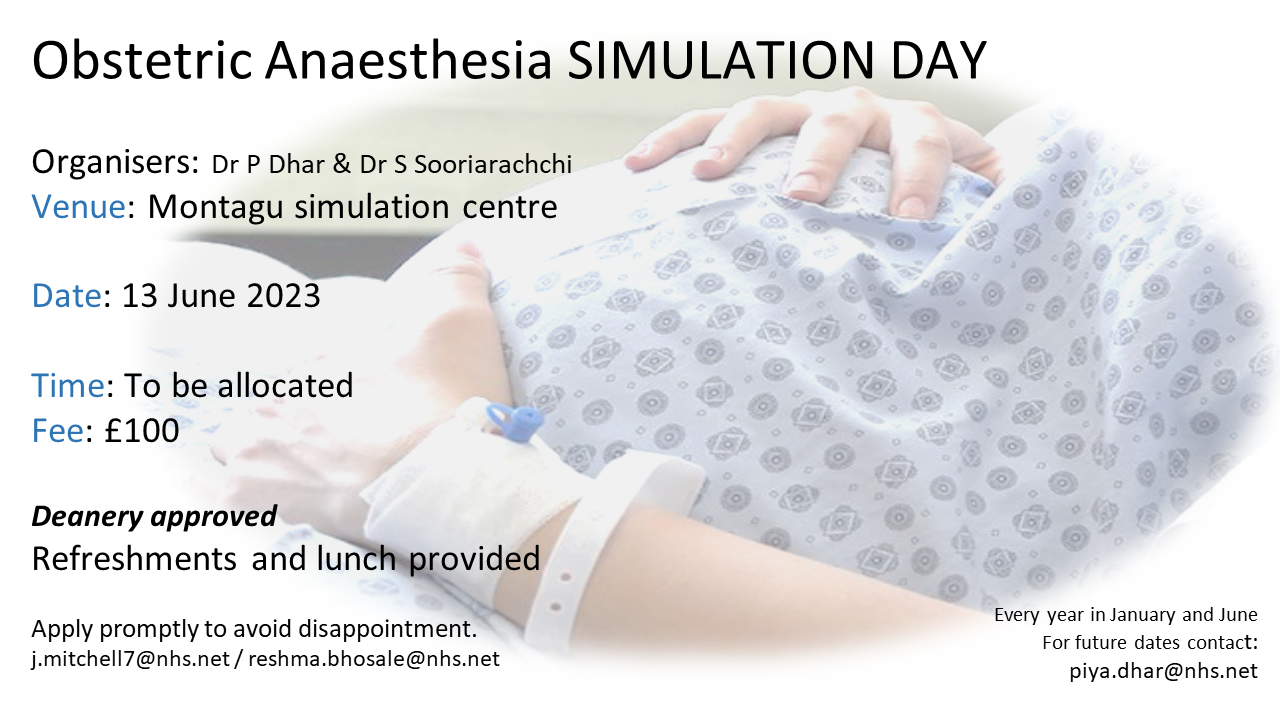 click poster to book
*******
Core Trainee Airway Simulation Course
HILS Clinical Skills Facility, Hull
Tuesday, 12 September 2023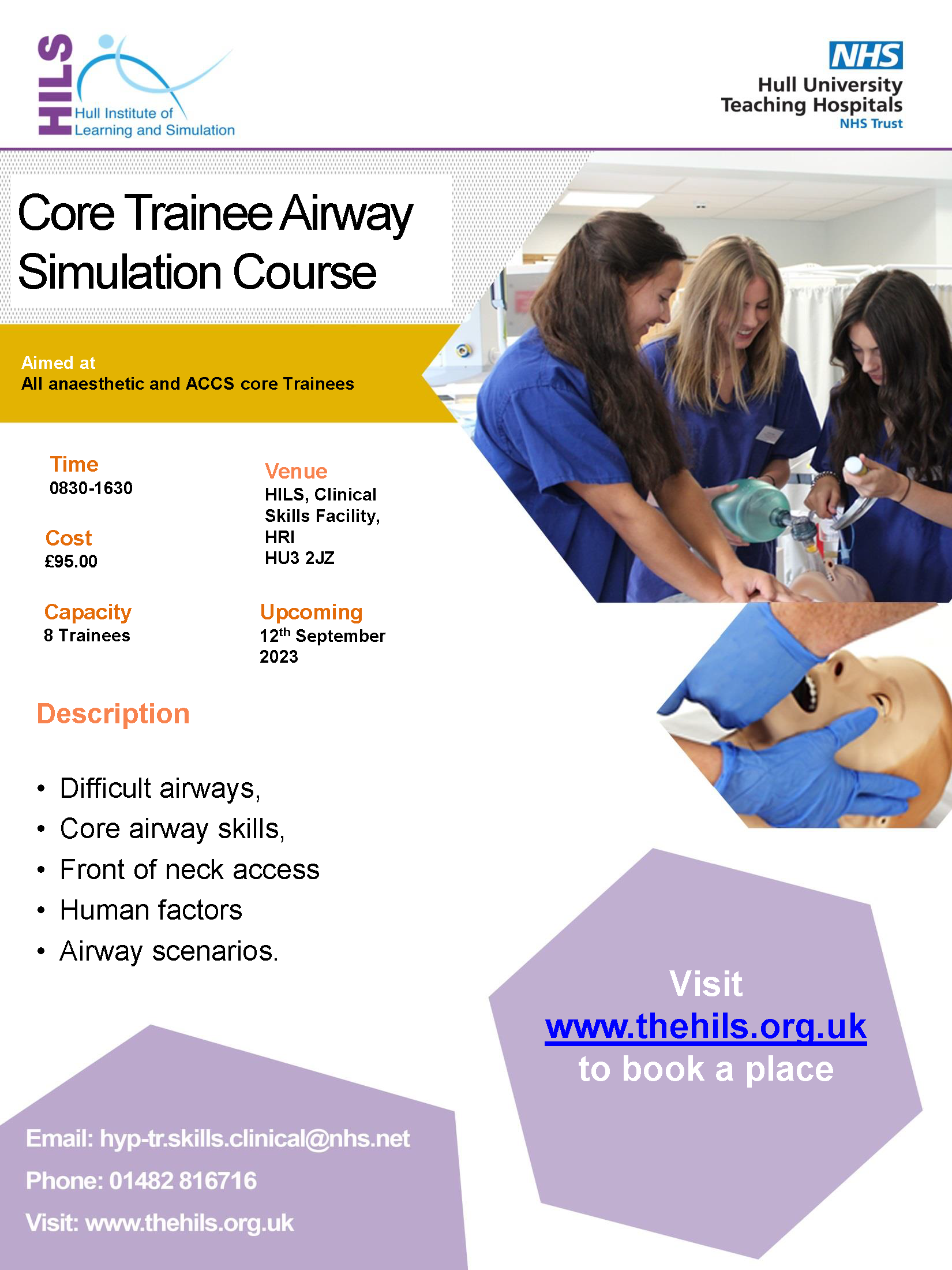 •••••••• 
Critical Care Transfer Course
Bradford Royal Infirmary
11 August, 20 October 2023
(additional dates to be added)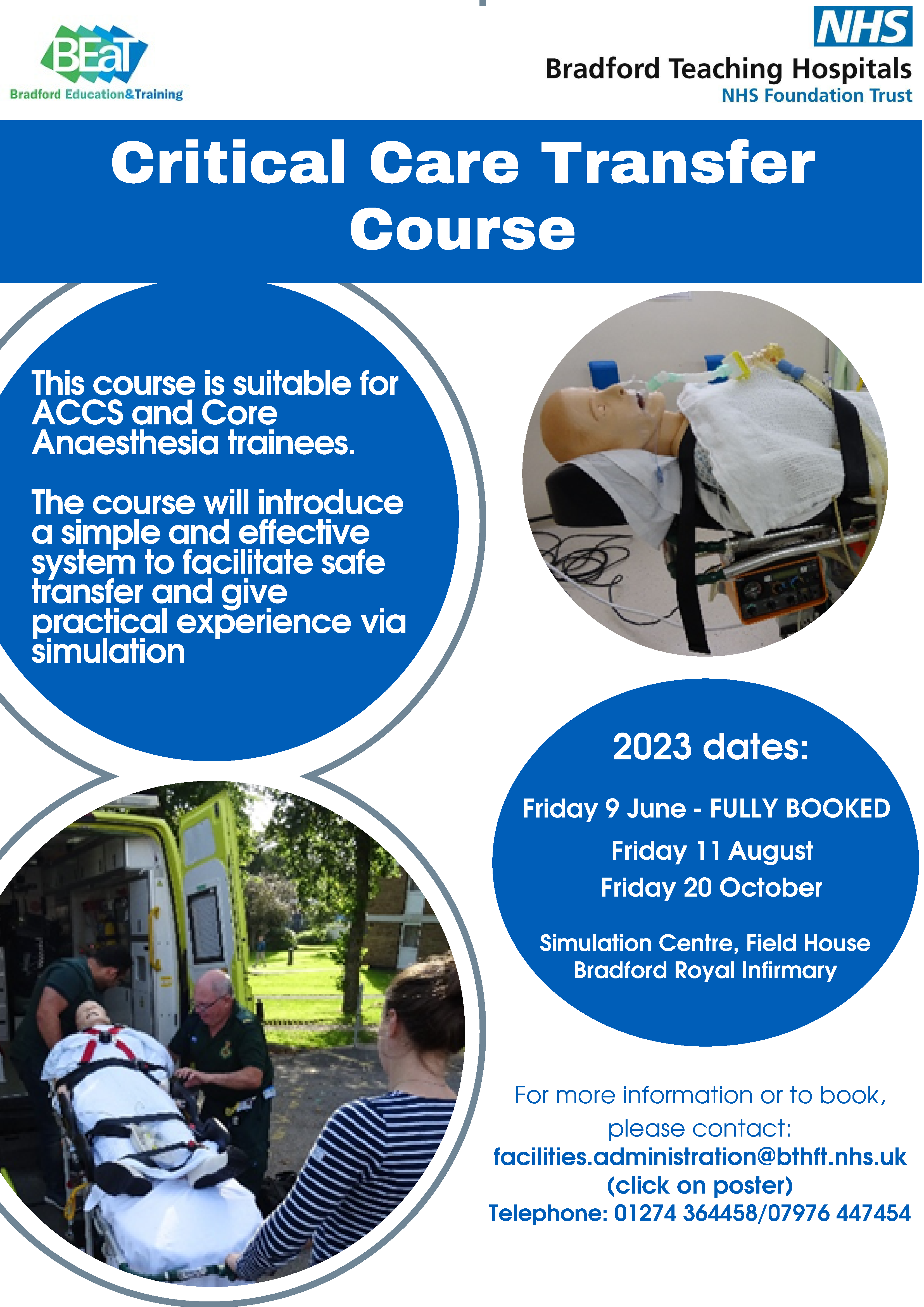 suitable for Stage 1 trainees
to book: facilities.administration@bthft.nhs.uk