Linked Pages
Yorkshire ICM Teaching/Courses
In this section you will find links to all the Y+H ICM Teaching resources including upcoming teaching, online archives and the brand new ICM Exam Preparation course FIVA. Directly below is a calendar for ICM teaching, below that are all the labelled links.
TEACHING CALENDAR
........
FIVA Course
Autumn 2021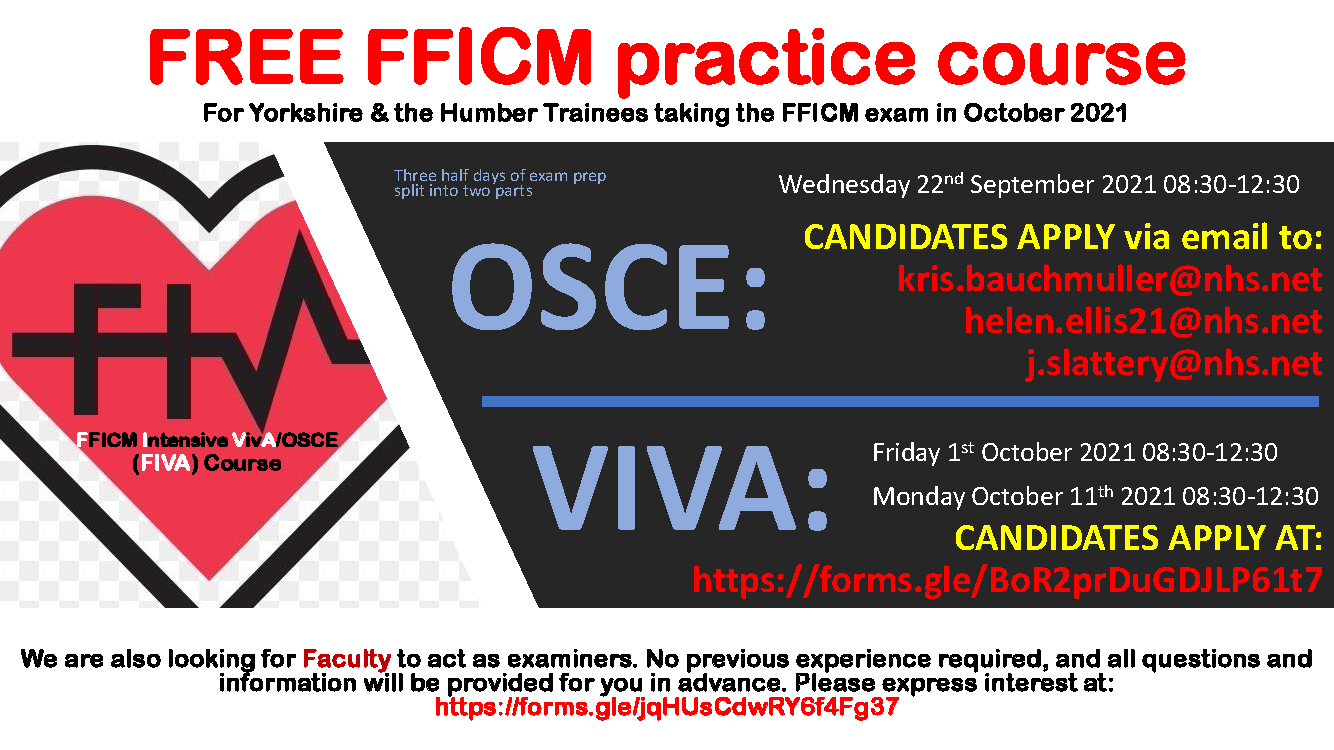 click on flyer above to download a PDF with embedded links
VIVA candidate application link
Faculty application link
........
Upcoming Regional Teaching timetable:
| Date | Location | Faculty Tutor | Topics | Booking Link/contact |
| --- | --- | --- | --- | --- |
| Monday, 27 September 2021 | Hull | Julian Howes / Tom Eckersley | Brain death/organ donation | limited places available here |
| 11th November 2021 | Leeds (SJUH) | Andy Taylor | Respiratory/ALI/ARDS/weaning |   |
| Thurs 20th January 2022 | Bradford | James Morgan | Transfer/management |   |
| March 2022 | Hull | Julian Howes / Tom Eckersley | Cardiology/Cardiac Surgery |   |
| May 2022 | Sheffield | Kris Bauchmuller | Trauma/Radiology |   |
| July 2022 | Leeds (SJUH) | Andy Taylor | Renal |   |
| September 2022 | Hull | Julian Howes | Respiratory/ALI/ARCD/weaning |   |
| November 2022 | Doncaster | Ben Williams | Poisoning/Maternal Health |   |
| January 2023 | Pinderfields | Brendan Sloan | Burns/Nutrition |   |
| March 2023 | York | Duncan Tarry | Haematology/Oncology/Endocrine |   |
| May 2023 | Sheffield | Helen Ellis / Kris Bauchmuller | Neurology/Neurosurgery |   |
| July 2023 | Leeds (LGI) | Gunchu Randhawa | Brain Death/Organ Donation |   |
| September 2023 | Hull | Julian Howes / Tom Eckersley | Acutely Ill Child/Child Protection |   |
| November 2023 | Sheffield | Kris Bauchmuller | Cardiology/Cardiac Surgery |   |