Less Than Full Time Training (LTFT):   Leeds and West Yorkshire Radiology  
There are  currently 13 trainees (5 males and 8 females) training Less Than Full Time (LTFT).  Our trainees have chosen to train in this way for a variety of reasons, with most working between 60% and 80% of fulltime.  Trainees have a proportional on call commitment depending on seniority.  
Working less than full time may allow for a better work life balance, reduces exhaustion and can be valuable for trainees with health issues. 
Our training scheme has facilitated LTFT training for a number of years and has both a LTFT trainee representative and a LTFT Consultant Mentor.
 Health Education Yorkshire and Humber: Less Than Full Time Training
TRAINEE TESTIMONIALS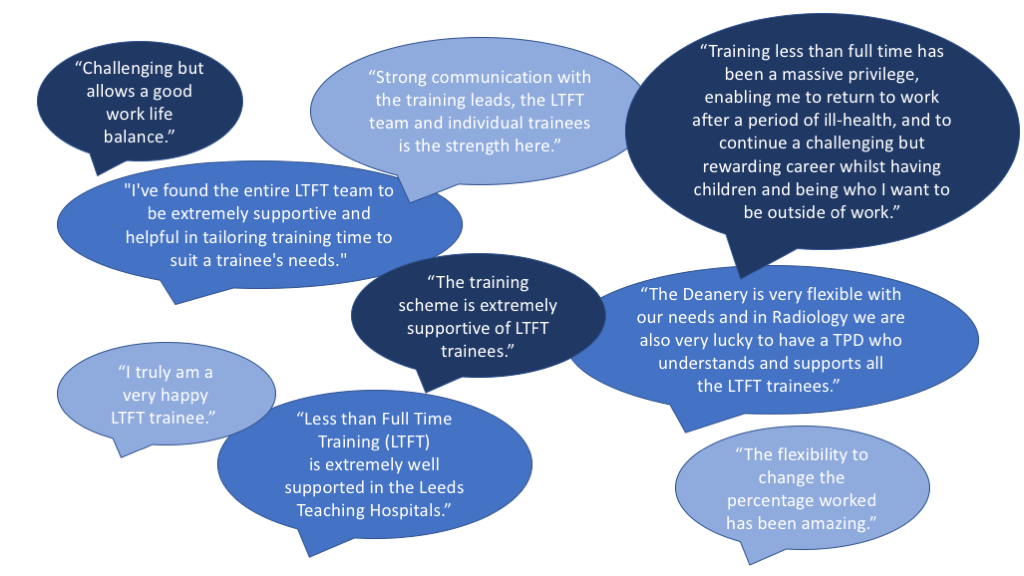 ARRANGING LESS THAN FULL TIME TRAINING
Useful information including eligibility criteria and application forms can be found on the deanery less than full time online section.  
General enquiries can be made via radiology.yh@hee.nhs.uk
West Yorkshire Radiology LTFT Registrar Representative - Dr Leanne Greenwood  
West Yorkshire Radiology LTFT Consultant Representative - Dr Ashley Uttley (Consultant Radiologist, Harrogate and District NHS Foundation Trust)