Research.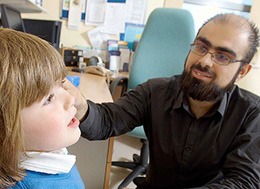 The Yorkshire and Humber School of Paediatrics is committed to supporting and increasing paediatric research opportunities in child health. We recognise that encouraging research leads to better doctors and better care for the children we treat. This section gives an overview of research in the Yorkshire and Humber School of Paediatrics and the opportunities available for our trainees.
How can I become involved in research?
Regardless of experience all trainees have the opportunity to become involved in research during their training in Yorkshire. Many of our hospitals are involved in running clinical trials and trainees are able to recruit and consent patients.
It may be possible for trainees to conduct their own research project depending on the time and resources involved. The Research and Development department at your local hospital will be able to give further information.