Vision statement
Our core value is to benefit children in the region by providing excellent training opportunities for future paediatricians, many of whom will stay within the region. We take pride in our high quality training that ensures our CCT holders have the knowledge and people skills required to work as effective Paediatricians.
We aim to work collaboratively with all training units to create a holistic training environment that allows for optimal learning and takes the needs of adult learners into account.
The paediatric trainee is at the heart of our efforts and we aim to provide an excellent learning environment, taking personal requirements into account, as this results in happier and better trained doctors.
School of Paediatrics Newsletter July 2020
       Do you have news to share? Contact the School of Paediatrics website                                  
                                                                                                                                                                   January Newsletter  February Newsletter March Newsletter  April Newsletter
Welcome to the HEYH School of Paediatics newsletter. Please contact the team if you have news to share or want to contribute. 
The Newsletter will be updated on a monthly basis and aims to highlight news and events from across the region and country.    
---
RCPCH has releaser guidance for clinicians on shielding for chidlren and young people- click here
---
Training Progression and Exams
There has still been no confirmed news when RCPCH will restart exams.
Key changes due to this are progression to ST4 can occur without clinical exam as long as all written exams have been passed.
START will take place on the 8/9th October and will be a virtual assessment
---
Online Courses
Safeguarding level 3- can be accessed at ALSG- https://www.alsg.org/rcpchsc/login/index.php#
You need to create an account to log in. Then click on CPRR for Bradford Teaching hospital. You will need a code which can be obtained from Vicky Williamson Vicky.Williamson@bthft.nhs.uk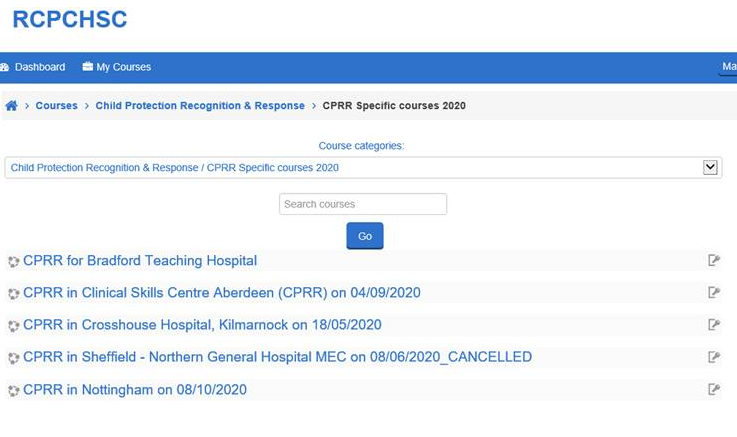 ALSG free online resources including APLS E-book and PLS E-module- https://www.alsg.org/home/course/view.php?id=358
Human Factors- https://www.alsg.org/home/course/view.php?id=101
---
London School of Paediatrics online learning programme
The london school of paediatrics are sharing thier online teaching timetable which trainees from Yorkshire can join. See link  below for timetable.
https://www.copmed.org.uk/images/docs/gold_guide_8th_edition/Gold_Guide_8th_Edition_March_2020.pdf
---
ARPCs have been taking place for the last month and the panels have been impressed by the standard of portfolios presented.
Despite the challenges with COVID the majority of trainees have demonstrated excellent progress whilst providing high level care to the children of Yorkshire and Humber
---
Upcoming Events
May events are being cancelled so please bear this in mind.