Dental and Maxillofacial Radiology.
We provide one-to-one specialty training in dental and maxillofacial radiology. We offer training/access to all imaging modalities including interventional sialography and PET scanning. We have very close contacts with the head and neck radiologists within the Leeds Teaching Hospitals, Mid Yorkshire, Hull and Bradford with excellent opportunities for wider experience.
Training Programme Directors
Dr Brenda Murray (All)
ARCP: July 2021
Further information on recruitment, ARCP, study leave and period of grace can be found here.  
The training follows the syllabus set down by the Royal College of Radiologists for the Diploma in Dental and Maxillofacial Radiology. 
The Diploma in Dental and Maxillofacial Radiology (DDMFR) Examination is a requirement for satisfactory completion of specialist training in Dental & Maxillofacial Radiology. Entry to it requires success in the physics module of the First FRCR Examination in Clinical Radiology and the completion of specified periods of UK specialist training in dental & maxillofacial radiology.
The DDMFR Examination is in two parts: Part A and Part B. In both parts candidates will be examined in all aspects of dental & maxillofacial radiology. The Part A Examination also addresses the basic sciences of physics, anatomy and techniques. 
Candidates who have passed the physics module of the First FRCR Examination are permitted to enter the DDMFR Part A Examination after 18 months of dental radiology training. Candidates are permitted to enter the DDMFR Part B Examination once they have passed both modules of Part A and three years of dental radiology training have been completed.
In the past we have been praised for the breadth of experience available and enthusiasm of the head and neck radiology trainers in the region. Attendance at any relevant medical radiology tutorials will be arranged. As regards the dental and maxillofacial component this is likely to be one to one both for tutorials and hands on interventions. 
Consultant jobs in our specialty are virtually entirely in teaching hospitals in the UK and therefore there is a teaching element incorporated over the 4 years.
The Intercollegiate Surgical Curriculum Programme Website
This site houses the curriculum for the dental specialties and, in a secure area, trainees' electronic portfolios and the learning agreements which support training.
All trainees will eventually use the e-portfolio but this will be done on a rolling programme by specialty. Consultants and other professionals who will be training, assessing and supervising training will also need to register. 
Both the consultants are NHS employees with honorary senior lecturer status. Our department has close links with medical physics and the majority of our research is carried out in conjunction with them.
Fiona Carmichael
Fiona is a Consultant in Dental and Maxillofacial Radiology/Honorary Senior Lecturer and Head of Department. She qualified in 1984 from Glasgow University and after a series of house jobs became a lecturer in oral surgery. It was during this time that she began to train in dental radiology. She completed her training as a senior registrar in Leeds and then became a consultant in 2000.  She is currently President of the British Society of Dental and Maxillofacial Radiology. Clinically she has an interest in interventional sialography and is also involved with the head and neck MDT. She has contributed training modules for the Radiology online teaching initiative.
Brenda Murray
Brenda is a Consultant in Dental and Maxillofacial Radiology/Honorary Senior Lecturer.  She qualified from Queen's University in Belfast in 1998 after intercalating both a BSc (Hons) and PhD in Anatomy during her undergraduate training.  Brenda then went onto complete a one year Research Fellowship in Belfast (1999) and was subsequently appointed as a Clinical Lecturer in Oral Sciences at the Queen's University, Belfast.  During this time is completed a Postgraduate Certificate in Higher Education Teaching. She came to Leeds as a Specialist Registrar in 2003 and was appointed as a consultant in Leeds Dental Institute in 2008 and in the Mid Yorkshire Hospitals NHS Trust in 2009.  Her main interests are in ultrasound of the head and neck and cone beam CT.
Annually, each trainee is required to complete:
6 Mini-IPXs
6 DOPS
Less Than Full Time trainees are required to complete a pro-rata number of WPBAs each year.  
Dental and Maxillofacial Radiology
Dental and Maxillofacial Radiology is a rewarding and challenging career due to the diversity and complexity of the work. Yorkshire and the Humber offers fully integrated training in the both head & neck and dental components of the curriculum. Practically, this means that trainees are exposed to advanced imaging modalities and interventional procedures such as ultrasound guided interventions (figure 1), dental Cone Beam CT (figure 2) and MR imaging throughout training, ensuring that experience is gained in the full spectrum of the specialty. There are opportunities for training with both other dental speciality trainees and clinical radiology trainees and trainees have the benefit of access to the Leeds Radiology Academy.
Training is primarily based in Leeds Teaching Hospitals NHS Trust but will include placements in a number of other trusts in the region. This allows trainees to receive broad based training with involvement in local multi-disciplinary team and clinico-radiological meetings. Through the integration of placements at peripheral trusts, trainees' work is supervised by, and feedback received from, a range of Consultant Dental & Maxillofacial Radiologists and Clinical Radiologists with a Head and Neck subspecialty interest.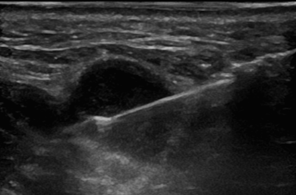 A number of features of the training program have stood out to me:
Active participation in regional Head and Neck oncology and Salivary Gland multi-disciplinary team meetings
Day-to-day integration of Head & Neck and Dental components of the specialty from early in training
Direct involvement in quality improvement and research projects
Training with renowned specialists across multiple hospital trusts and sites
Friendly, approachable supervisors and patient orientated teams at all trusts involved in the training program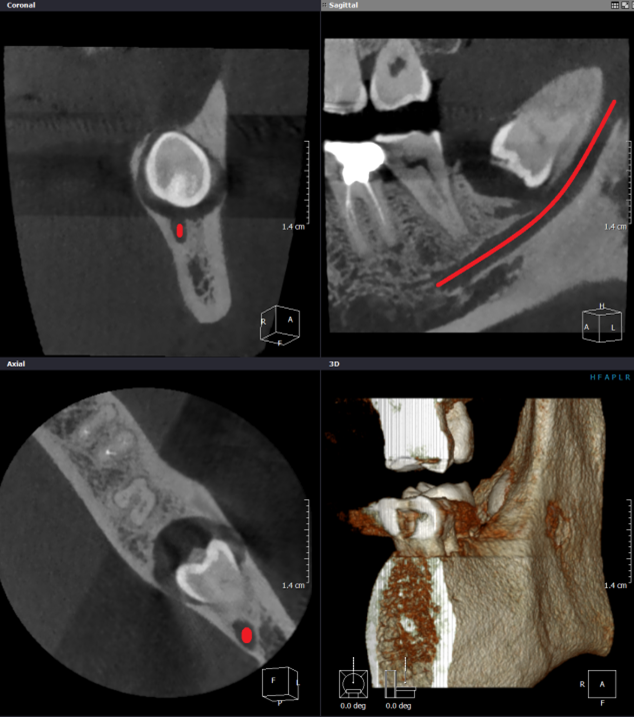 Designed by E Walker, Dental and Maxillofacial Radiology Trainee 2021