News, Opportunities & Events
On this page you will find details of events relating to core and higher surgical training that may be of interest. Events listed here have been deemed appropriate for us to share with you by the Head of School, Mr Renwick.
These opportunities are open to trainees at all levels (CT1 - ST8) unless otherwise stated.
Please use the relevant contact details provided below for further details. Emails sent to HEE regarding the below will not be processed. HEE Y&H accepts no responsibility for the content of external sites.
For important updates on examinations, including rescheduled exams, during COVID-19 please see the JCIE news page.
RCS England have recently anounced that partner centre courses have been postponed in January and February 2021:
We have taken the decision to postpone courses scheduled to take place across January and February within our Partner centre venues. Most faculty and participants on these courses have to travel great distances, between regions, as well as taking time away from clinical care.

Whilst the need for training is greater than ever before, we want to make the safety of faculty and participants, as well as the health of many thousands of patients in hospitals, our primary objective. 

We also recognise that at this time, your life-saving skills are of greater value at your local hospitals. 

We are working with our Partner venues to try and secure dates for later in the year. We will hopefully be able to reschedule these courses so that trainees are not disadvantaged in their development and progression.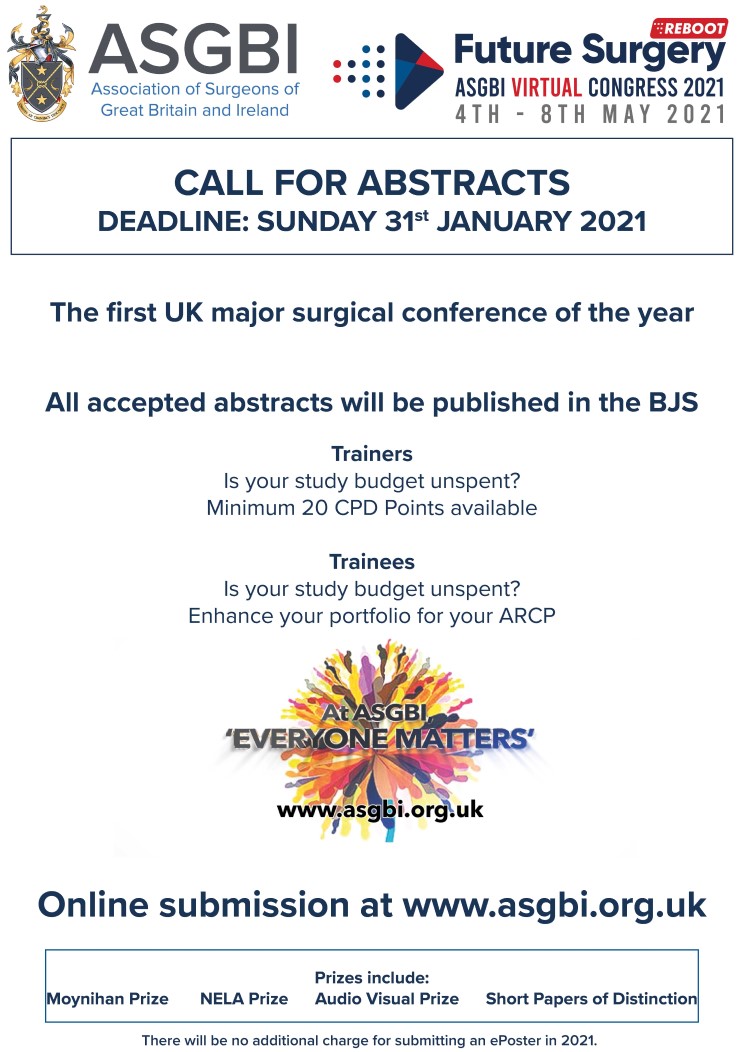 Clinical leadership is a key element in all curricula and has been demonstrated to improve patient care. Health Education England, working across Yorkshire and the Humber are now running free one day virtual courses for doctors and associated healthcare professionals in the region.
Courses will be delivered by current clinicians and educators. The course is aimed at doctors of the following grades: ST1-4, GPST, CT1-3. AHPs who are currently in training or early in their careers are also welcome to attend. 
This course will be most relevant to those who have little experience of leadership training in the past. This will be an interactive, reflective day providing an understanding of clinical
leadership and its role within the NHS.
Courses are currently available on the following dates:
15 January 2021
22 January 2021
29 January 2021
11 February 2021
09 March 2021
All booking is via MaxCourse (www.maxcourse.co.uk/HEEYHME/). If you have any queries, please email: educationevents.yh@hee.nhs.uk
The York Medical Society Founder's Prize has been running for 8 years and is a highlight of the society's programme of events. Shortlisted applicants are required to give a presentation that can be an audit, a case series, case presentation or research project that has been conducted whilst working in the Yorkshire and Humber Deanery. The prize evening is open to all trainees in all schools. The 1st prize award is £200 with four runners up prizes of £50 each. Depending on restrictions at the time the meeting will held in the beautiful Grade II listed society rooms in Stonegate, York or by Zoom on the 5th March 2021.
The deadline for submission is 29th January 2021. Only one application per candidate will be accepted. Candidates do not have to be members of York Medical Society to apply.
For more information see the Flyer and Application Form below or visit http://www.yorkmedsoc.org
The British Association of Clinical Anatomists is excited to announce the 3rd "BACA Beat" webinar held on December 16th 2020 at 2pm. This event will focus on the "Future of Anatomical Education and Training needs in the NHS". 
Our guest speakers will include: 
Dr Robert H Whitaker- Author of Instant Anatomy & Anatomy Teacher University of Cambridge 
Dr Helen Taylor- Consultant Radiologist Addenbrooke's Hospital & Clinical Anatomist University of Cambridge
Mr Mustafa Rashid- Orthopaedic Registrar St George's University Hospital NHS Foundation Trust 
*Registration now open at https://us02web.zoom.us/meeting/register/tZYofuirrzMvEtxNXTBTt5oO022KjfSSuams 
Smashing Education are hosting an online 3 day MRCS Part A revision course suitable for junior surgical trainees preparing for the examination. The revision course will take place on Zoom from Friday 11 to Sunday 13 December 2020. The structured lectures will cover the key areas of the MRCS Part A syllabus - Applied Basic Sciences (Anatomy, Pathology and Physiology) and Principles of Surgery in General (Management of trauma, clinical surgical specialities and perioperative and critical care). The course cost is £300.
For more information please see the Smashing Education website or email info@smashingeducation.com.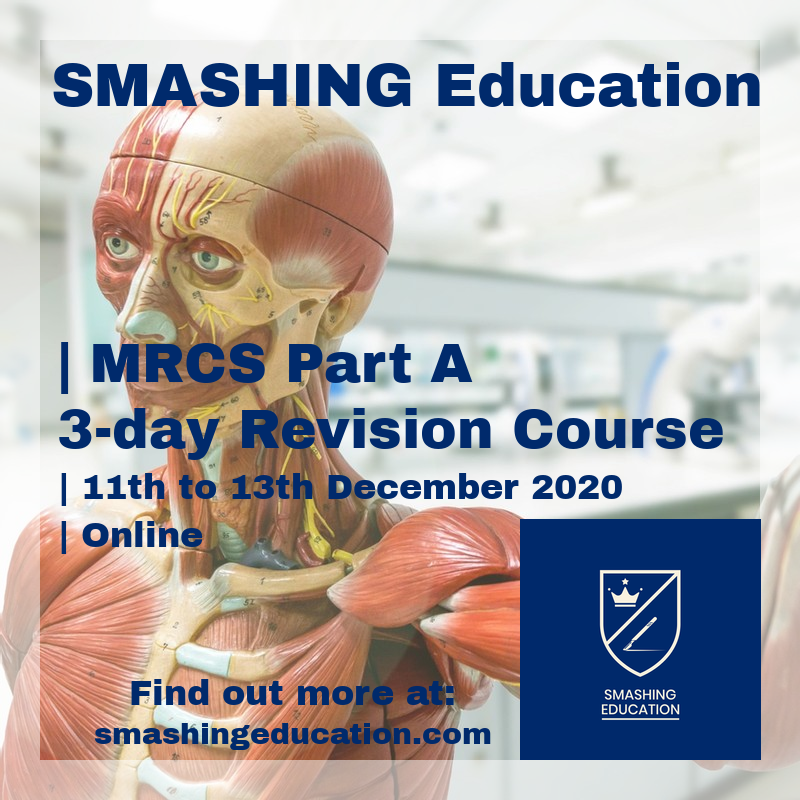 The University of Sheffield Surgical Society has created a facebook page called 'Surgical roots'. The aim of the page is to help connect medical students and surgeons, allowing students to ask questions and get advice. The society is looking for surgical registrars and consultants to join the group and to help answer student questions about surgery, offer advice and promote networking. Please visit the Surgical Roots Facebook Page for more information or join in.
The University of Sheffield Surgical Society is currently recruiting for mentors in this academic years' mentorship scheme. The scheme matches medical students with an interest in surgery to a mentor working in the specialty they are most interested in. The scheme would require the mentor to advise and help their student depending on their needs. At the end of the academic year a certificate for participation will be given.
The role includes providing:
Career advice
Shadowing opportunities
Opportunities for medical students to get involved in projects/audits
Building on the overall surgical interests of the medical students
You will be paired with 1-2 medical students who will be given your contact details and will be asked to contact you directly. This scheme runs until September 2019. You will also receive a certificate of participation for your ePortfolio at the end of this programme.
Those interested in taking part can sign up using this form
For more information please contact: surgsoc@sheffield.ac.uk
A new e-learning programme from Health Education England e-Learning for Healthcare (HEE e-LfH) aims to support health and care professionals with court-related experiences.
The Medico-legal Training programme provides resources for doctors and other health and care professionals who may be asked to write a statement or report or give evidence in a coroners' or other court for the first time. It aims to offer support for what can be, for many, a daunting experience.
It includes brief video lectures and PowerPoint slides from the lectures as well as sample statements and references.
Course materials were developed by HEE Kent, Surrey and Sussex with staff from the London Havens, and health professionals with experience of the legal system. The Havens are sexual assault referral centres which have developed considerable experience in training clinicians to undertake forensic examinations and aftercare.
The e-learning resource is available now on the e-LfH Hub and will soon also be available on the Electronic Staff Record (ESR).
For more information about the programme visit: https://www.e-lfh.org.uk/programmes/medico-legal-training/. 
WRSC is a research group seeking to promote collaborative research around Yorkshire, open to core and higher trainees. For more information follow @WRSC_research on Twitter or email info.wrsc@gmail.com. Details of upcoming meetings can be found on the WRSC Eventbrite Page