Simulation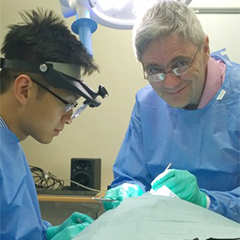 Opportunities for surgical simulation in Yorkshire are extensive. This is due in large part to having many keen trainers who use the simulation suites to enhance training.  Not only do trainees benefit from first class wet labs and computer simulation, but there have been two trainee simulation fellowships in recent years. These fellows have developed innovative new methods, such as a wet lab anterior vitrectomy simulation model.
EyeSi has become a popular virtual training device for cataract and VR surgery. There are units in Leeds, Sheffield and York. There is also a unit in Doncaster, owned by the local department. Hull has a PixEyes laser simulator available for trainee use.
It is a requirement for trainees to complete a minimum of 10 hours simulation each year. Please take advice from your local TPD, or educational supervisor for what would be required at your stage of training.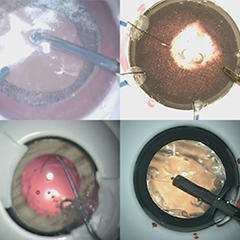 There are multiple wet lab and simulation study days available through the calendar year, including:
Beginner and advanced cataract wet labs
Strabismus cadaver labs
Human Factors training
RCOphth practical ultrasound course
Computer simulation study days for cataract and laser.
Most courses are "blended" with complimentary e-Learning via e-LfH.org.uk. Many are mandatory for trainees and all are supported voluntarily by senior staff who love teaching.
There are multiple wet lab and simulation study days available through the calendar year, including:
An induction course for ST1s at Bradford Royal Infirmary (simulation for slit lamp, indirect ophthalmoscopy, applanation tonometry etc)
Beginner and advanced cataract wet labs at Hull (can also be booked for individualised practice)
Strabismus cadaver course (Leeds or Hull University)
Pilot cadaver oculoplastics course 2018 Leeds University
Laser training using part task simulation for YAG laser and retinal laser at Hull (also including the only surviving PixEyes computer laser simulator in the UK)
RCOphth practical ultrasound course at Hull Institute of Learning and Simulation.
Human Factors Training in Hull and York ('in situ' with operating theatre teams).
Use of the EyeSi simulators will be charged at a pro-rata rate of £25 for a 3 hour session. Trainees do not need to apply for study leave or expenses as the charge will come directly from the study leave budget up to a maximum of £125. Attendance at the Compulsory Study day is an additional charge of £50 for the day, also directly from study budget. This creates a fund for repairs and maintenance.
Access to the Simulators is generally restricted to those on the Yorkshire and Humber Ophthalmology Training Programme and  unsupervised use should only be after attending the Compulsory Cataract Simulator and Biometry Study Days.
There is an EyeSi simulator available for use by those working in the Doncaster eye department.
Liase with Mr Nick Mawer for further details.
The wet lab is located on the first floor of the Hull and East Yorkshire Eye Hospital adjacent to the operating theatre suite. There are three surgical stations each with a modern operating microscope, adjustable height table and surgeons seat. All stations have a phaco machine, two of which have vitrectomy facility.  There is one Eibos attachment.  Surgical practice is on simulated eyes from Phillips Studio, Kitaro and PhakIs including cataract basic and advanced, strabismus and suturing.  Vitrectomy and trabeculectomy coming very soon.  There are eyes for intraocular injection practice.
Also within the wet lab is an indirect ophthalmoscope station with video recording and indentable eyes. There are two slit lamp stations to allow practice with "Volk" lenses, aplanation tonometry, keratometry and foreign body removal.
Access to the wet lab for local and regional trainees is by arrangement and initially supervised.  Local trainees can arrange unsupervised practice thereafter.  Contact Mr Innes TPD for simulation on james@innes.org.uk  or 078015406507.
Laser training facilities include a PixEyes computer retinal laser simulator (based in the department Library) and part task simulators which allow YAG laser capsulotomy and iridotomy and retinal laser (retinopexy, PRP pattern and focal laser). These are used with live lasers in the clinic. Laser training is mandatory (see RCOphth Curriculum)before patients are treated, and sessions are advertised regularly.  Recently  YAG laser training and Retinal laser training have been broken into separate courses so that YAG training can happen earlier at ST1 level. Individual additional laser training can be arranged by contacting Mr Madhu   (Krishnappa.Madhusudhana@hey.nhs.uk).
The Royal College of Ophthalmologists Practical Ultrasound Course is held in the Hull Institute of Learning and Simulation (on the top floor of the Eye Hospital).
Cadaveric simulation courses are held at Hull University and at Leeds University Anatomy Departments.  Both now have access to cadavers embalmed by the method of Walter Thiel which yields tissues excellent for surgical training.  Cadaveric courses in Strabismus have run for nine years and this year we will begin basic oculoplastics courses.  These courses are advertised to the Yorkshire School then nationally one week later
Location: LIMIT / LISTA. 3rd Floor Chancellors Wing, St James's University Hospital, Beckett Street, Leeds, LS9 7TF
Contacts:
Mr Ian Simmons
Consultant Ophthalmologist & Head of School 
 
Booking:
www.medicaleducationleeds.com  for online bookings once trainee has had an introduction to the eyesi.
LIMIT Contact: leedsth-tr.LIMIT@nhs.net
The ophthalmology simulator suite is located on R floor of the Royal Hallamshire hospital. Access is granted by reception staff on R floor, and booking is by writing in the booking record in the suite. (Booking is not usually necessary). If further details are required, please contact Miss Zanna Currie,  Zanna.currie@sth.nhs.uk
The suite includes:
EyeSi simulator - cataract and VR modules
Operating microscope
Kitaro kit
Skills board and surgical instruments
There are plans for Zeiss microscopes for trainees to borrow at home, with recording facilities. Pending funding approval.
Location: Level 4 (below PGMEC), York Teaching Hospital NHSFT, Wigginton Road, York, YO31 8HE
Contacts:
Mr Roger Ellingham
Consultant Ophthalmologist
Booking:
Mrs Victoria Newlove
Victoria.newlove@york.nhs.uk
01904 725938
Miss Sharon Bailey
Sharon.bailey@york.nhs.uk
01904 725939