What is Spring & Autumn School?
Spring and Autumn School are usually annual, 4 day, events running in May and October. Each day contains a series of courses to choose from, aimed at the development of GP Trainers. Traditionaly held face to face, given the pandemic we have been running these events virtually since October 2020.
Autumn School 2020 ran 6 - 9 October 2020. Our first virtual event, we ran a series of individal courses over 4 days.
Spring School 2021 ran 12 - 13 May 2021, virtually via the conference platform Hopin.
The next Autumn school is happening 19 - 22 October 2021. Please see below for more information and to find out how to book.
Autumn School 2021
Autumn School 2021 will run from 19 - 22 October 2021. Autumn School will again be hosted virtually across a variety of platforms. We are pleased to announce that booking for Autumn School 2021 is now open!
 
Information about the courses is available on Maxcourse. Booking for all courses is also through Maxcourse. If you do not already have a Maxcourse account, please create an account here. For Maxcourse FAQs and tips, please see below.
For a summary of the courses running as part of the Autumn School, please download the programme.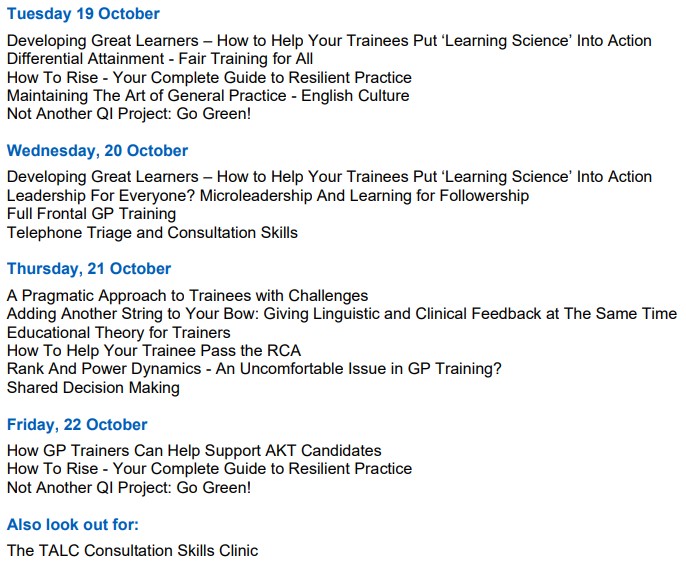 Spring School 2021
Spring school 2021 ran via the virtual conference platform, Hopin. This site enabled us to live stream keynote speakers and run a range of workshops over 2 days. Our keynote speakers were:
Dame Clare Gerada- A year of Covid: Doctors, pandemic, and mental illness
Dr Margaret Ikpoh and Dr Mo Sattar- The writings on the wall – Keeping race in mind
Professor Vijay Nayar- Impact of Culture on Teaching and Learning
Professor David Hirsh- Science of Learning and Teaching
Workshop resources
Please find below the slides / resources the faculty of our workshops and keynote speakers have provided. If resources for a particular workshop or keynote speaker are not present, unfortunately we do not have them available to share.
| | | |
| --- | --- | --- |
| Workshop | Faculty | Resource |
|  Adding another string to your bow: Giving Linguistic and Clinical  feedback at the same time |  Marion Bowman |  Presentation Slides |
|  Top tips for helping trainees with the AKT |  Nick Price & Neal Maskrey |  Presentation Slides |
|  Helping your trainee to thrive |  David Fair |  Resource Link |
|  Keynote - Impact of Culture |  Vijay Nayer |  Presentation Slides |
|  Maintaining the Art of General Practice - 'Power'  |  Nic Gill & Roger Higson |  Resource Link |
|  QIP/leadership activity |  Jodie Lockwoon | |
|  Starting the conversation – the hardest part? |  Edmund Cross |  Resource Links / Booklist |
How do I book my place at Spring or Autumn School?
When Spring and Autumn school are available to book, bookings are made and managed via Medical Maxcourse. If you do not already have a Maxcourse account, you will need to create one. Further information on how to create an account and frequently asked questions for Maxcourse are detailed below.
Do I need a Maxcourse account?
You are required to have an account to be able to book any courses on the system. If you do not already have an account please select the Medical Maxcourse link, select the option 'new user? start here' and provide the requested information.
Once you have created your account you will need to ensure the below has been updated on your account, via 'account details'
Profession- Select the one/s that apply, this will be used to confirm you are applying for courses relevant to you.

Gender, Main Occupation, Speciality and Trust - if applicable
How do I find a course?
Once you have an account you can use the search course function to search using the title of the course or you can use the course calendar.
Will I recieve a booking confirmation email?
You may not receive a booking confirmation email from Maxcourse. You can view all your course bookings via your account under 'my courses'.
Will I receive a certificate?
Once the course has completed, Maxcourse will be manually updated with your attendance. You can view this via your account under 'my courses'. If the status next to the course title is 'unconfirmed' this means we have not yet updated the attendance, please allow at least 5 working days for this to be actioned.
You will receive a notification form Maxcourse when your certificate is ready to view. This notification will ask you to provide feedback for the course before the certificate is made available for you.
Error when booking?
If there is an error whilst you try to book, Maxcourse will provide an explanation of the error and how you can fix it, usually by selecting 'edit'
The most common error when booking is that the 'profession' set on your account does not match the 'target audience' listed on the course. The two must match for the booking to be successful.
The course is fully booked, is there a waiting list?
You can add yourself to the waiting list via Maxcourse. Find the course you wish to book, if it is full it will have a 'waiting list' option rather than a 'book' option. Select waiting list and then head to your basket to complete the waiting list booking.
All waiting list bookings will also show on your account under 'my courses'.
All those on the waiting list are notified if a cancellation is received and the place is filled on a first come first served basis.